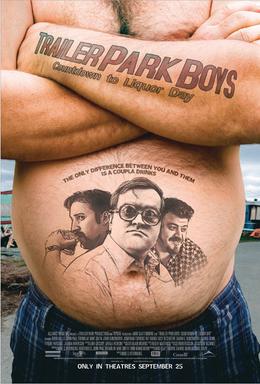 If you truly want to enjoy watching this series it is must to have the trailer park boys movie order as well as the sequence for the TV seasons. In this post I am giving the complete list so that you can find it in an easy step wise manner. Having the chronological order of trailer park boys shows and movie will surely help in forging a deep long term connection with the show. It will also provide a lot of clarity on the events that are occurring on the show. Here is the complete list containing the movies and season in sequence.  And now onwards you will not have to wonder about how many trailer park boy movies are there to cover. Just follow the line and you will have your constant dose of fun. I know that some of you like to cover it in a random fashion but trust me, it works better when you are on a time path. The plots seems better and there is a logical and humorous conclusion to setting.
Step wise trailer park boys movie order and sequence of TV shows
Step number 1 :
The Cart Boy released in 1995 was the first step in the hall of fame. It is a short piece and you may skip this. But it is better to begin the fun journey from here.
Step number 2:
Trailer Park Boys released in 1999, black and white movie. This is an important one. The movie actually forms the basis of the television shows as the plot starts from here on.
Step number 3:
Season (1,2,3,4) – The first 4 seasons of the show. It is available on Netflix
Step number 4:
The Trailer Park Boys Xmas special was produced as a TV movie in 2004. It shows the 1997 holiday season in Sunnyvale and Julian is experimenting with new money making ideas. Ricky harbors confusions regarding God and Santa while Bubbles tries his best to organize an annual bonfire for Christmas where everyone can take part. The duration is one hour.
Step number 5:
Now comes the Season 5 where new plots develop.
Step number 6:
2006 Trailer Park Boys  – The Movie. The trio is out of jail and looking for get rich schemes. The plan is to steal tons of change.
Step number 7:
This time it is the Trailer Park Boys 101 released in 2007. It is a short plot for the Tv and you might consider it watching it independently. The duration is 23 minutes.
Back to the Seasons 6 and 7
Step number 9:
It is now a TV movie released in the year 2008. The title is
Say Goodnight to the Bad Guys
. Now the boys are rich and the money is safe but trouble arises when they decide to share it.
Step number 10:
Step number 11:
This 2014 installment was the third and final step in the movie bandwagon. Trailer Park Boys: Don't Legalize It shows the persistent efforts of the trio to get rich quickly and how they are tackled by the trailer park supervisor Jim Lahey.
Step number 12:
2014 TV Movie: Trailer Park Boys: Live at the Northpole
Step number 13:
Step number 14:
Seasons 8, 9 and 10
Step number 15:
2014 TV movie-Trailer Park Boys: Live in F**kin' Dublin
Step number 16:
2015 TV Movie –Trailer Park Boys: Drunk, High & Unemployed Live in Austin 
Step number 17:
2016 – Trailer Park Boys Out of the Park: Europe
Step number 18:
2017 USA – Trailer Park Boys Out of the Park
Step number 19:
Seasons 11, 12
Step number 20:
It is not the Season 13 actually but you can watch the animated cartoon series of Trailer park boys on Netflix. The plots are a bit lengthy but it is fun to watch.
While you might watch as and when you like but in case you follow the 19 steps and watch it in this order, the plot and line would emerge as intended. There are no hard and fast rules of the games but series such as this one require an orderly approach, especially if you are someone just starting out. Hoping that this list of trailer park boy movies in order can help you in organizing some great weekend parties! But things work well even when you watch alone.  So keep up the spirits and have fun!
Click on trailer park boys movie order to move back to the start of the page….