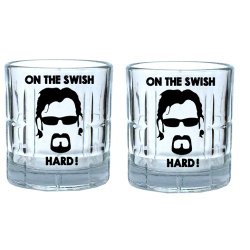 On the swish and hard! That's what the tumbler states. The witty image of Julian printed on the tumbler gives a whole new meaning to hard rock. It looks savvy and the effect is subtle. Do I want to replace all the tumblers in my kitchen?
The feeling is provocative but I could manage with one set for now.
The 10oz trailer park boys tumbler is stylish. You may not have seen this piece anywhere else. TPB fans will immediately recognize and draw the spirit from french cut Julian's image. Imagine having your daily glass of water in this. The size is not that big but still okay for me.
For those who want to place in the showcase, go ahead. It would look good inside a glass showcase or in your collection room. it is already a gift box set and the glass is thick. I am expecting this piece to be highly durable. But there is also an art of washing the tumblers so that you do not scratch the outer surface. All the shine resides on the outer surface. Take special care and clean only with a soft sponge.
Okay, I wanting to say cheers already. But only with coconut water! Drink healthy and stay healthy. Enjoy life and stay focussed on your dream path.