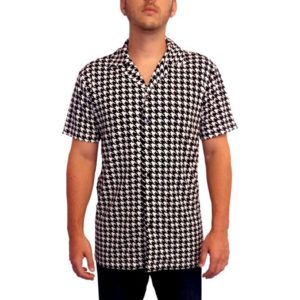 Sometimes you get mesmerized with personalities. Be it the case of celebrities or your first crush, there is something that pulls you on and on. It is not just about the shirt of Ricky or the quotes that he says, it is simply the aura around him that makes me feel so wonderful. Life pulls you around in different directions and memories of Ricky in the houndstooth shirt propels me to take the challenges head on. And mind you, there is nothing philosophical about it.
All these guys from the trailer park series and their movies left a deep impression in me. It is a kind of bonhomie that I wish to cultivate in my life too. With the right sense of humor you can cross almost any hurdle in life. It is easy to get bogged down and give but then you think about the great moments and everything else accompanying it, you start feeling just a touch better. It is this just a touch great feeling that lifts you from the hole.
Why am I getting so emotional about the whole stuff?
Hey, I want to somehow convince my roommate to wear the Ricky t-shirt for the weekend party! The idea of wearing the black and white striped houndstooth pattern does not ring a good sensation in him and I just cannot figure out the reason for it. And there is no other with the kind of fan spirit that I have currently in the hostel.
I have watched all the three trailer park boys movies with him and he has enjoyed a lot. May be it is the inner sense of hesitation that is creating the hurdle. Anyway, I ll somehow convince him to wear the tee. Till then, enjoy guys!