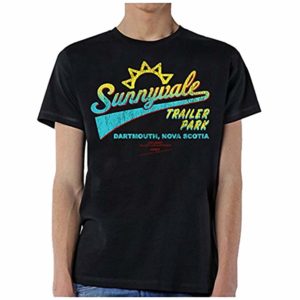 Sunny days are here and so are the boys. It is time to show the Sunnyvale spirit with the new collections in hand. This Mens Sunnyvale Trailer park shirt is simple to look at. Nothing too fancy about the design but it works good for most occasions.
If you want flair you can easily have some by pairing with the right set of denims. There are some other variations in officially licensed shirts which are difficult to obtain in the free market. And it would not be wise to ignore quality considerations. The licensed merchandise seems to last a bit more. You might procure many more witty designs but if the shirt does not last for a long time, the investment is not so satisfying.
This is a 100% cotton tee and has all the ingredients to become one among your favorites for the summer season.