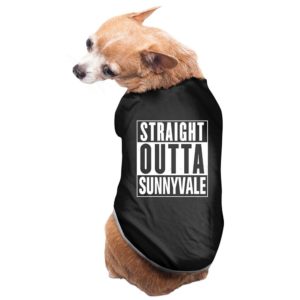 You got to be kidding! Its straight out of Sunnyvale all right but it is a doggie tank top. Now any dog owner should feel proud of this one. I guess all the trailer park boys fans who have dogs must have this one. I am not a pet owner but still contemplate on this one as a great gift option for my neighbor. Even for the non TBP fans this one is cool and stylish and would complement the pet for sure. Black is never out of fashion and you can always have one more.
Going more into the technical details, it measures 11.5 inches in length(M) and the chest size is 15 inches(M) and 16 inches for the L version. Yeah the length is 13.5 inches for the L size. The Straight outta Sunnyvale can be seen right on the back. The owner is advised to get a size that is slightly bigger than the dog for optimum comfort levels. Well, I do that in my own case too ! Now I must look around for doggie lovers in the neighborhood and present them one.
I am sure that the boys would not have seen this design and print. Wouldn't they be proud to see all those lovely canines displaying the Sunnyvale spirit? Yeah, for sure.