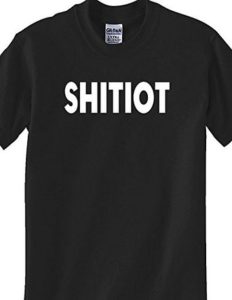 Sometimes that one word is enough. You might have experienced such moments when that one word does the trick. Who else can think of a word like Shitiot? None other than our trailer park boys. These master artists of humor know what it takes to invoke subtle humor. The Shitiot black t-shirt is another popular one in the TPB merchandise series. As always, you have the power of black coupled with this punchline. This is drop down creativity at its best.
Imagine a situation wherein you want to utter this very same word to an opponent.  You can do this with dignity! Crack out your emotions with the trailer park humor. It's like; what you see is what you are.
This shirt is another perfect match for TPB concerts. They will love it for sure. And apart from the graphic prints, text only shirts appear to pack an extra punch. It is a matter of preference, though. But tell me, who could have thought this word!