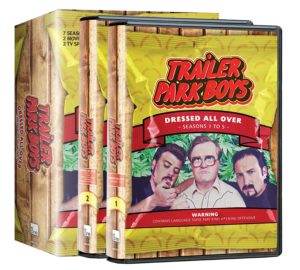 I have my full set of three and I am content with it. A weekend without the trailer park boys dvd seems strange. You might not resonate with my feelings in case you have never watched the team in action. And I guess it is quite rare to find someone who has not! That's my view, in any case.
Some people are still confused about the number of movies of the TPB boys. There are a total of 3 movies, just to clear the air. The first one "The Movie" was released in the year 2006. That's quite a long time ago. But if you just check the thing online, the number of current reviews will surprise you. That means, new fans are coming up. This confirms the rising popularity.
The second trailer park boys movie was Countdown to Liquor Day released in 2009. This is the one that I have planned for this weekend.
The third movie Don't Legalize It came in the year 2014. That's it and I am still waiting for the fourth one.
And then there are so many TV episodes to go after. Almost all the seasons are available in the DVD format.
If you are looking for a great package ( sort of blockbuster entertainment) there is The Dressed All Over Collection. All the seasons from 1-7 along with the 2 Specials. Not just that! You also have the first 2 movies; Trailer Park Boys and Countdown To Liquor Day. It is more than enough for most people. And it can last for a lifetime, as far as my dad is concerned!