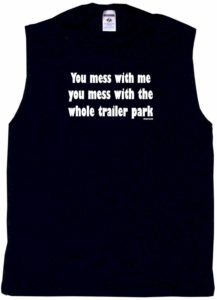 Tired of sleeves? Here is a sleeveless "Mess with me mess with the whole trailer park" shirt that brings out a macho-man spirit. You don't need bulging biceps to wear this shirt. A cool attitude is enough. The bold white quotation on the deep black background takes care of the rest. If you ever had a bullying problem, try this out. But please do not sit alone as people might think that you trying to show off something. Instead, have fun in your group and you will notice that many disturbing elements will stay away.
I do not have many sleeveless options in the wardrobe but plan to increase them in summer. It is comfortable to ride bikes with as little cloth as possible. Let the cool wind touch your body and see the heat disappear.
The makers will tell you that it is okay to wash with a machine. But mark my words, you are better off washing them with hand. They are soft cotton shirts and hence do not require much of an effort. Manual washing is a good form of exercise and also saves the shirts from quick fading. I like my apparels to remain brand new for a long period. This requires a certain degree of commitment and a simple investment; a good quality cotton washing liquid.