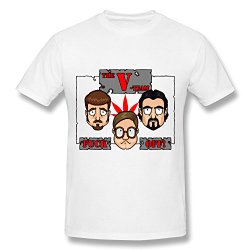 Show this tank top to your opponents when playing in a team! It has all the three of them together in a perfect tank top style. It just cannot get better than this. And if you are planning for a gift item for a TPB fan, this has to come in your list. The material is cotton and the print is of high DPI. It looks attractive and is also easy to wash. I won't wash it in the machine, though. Wash it by hands and preserve the print for a long time.
The food chain print is somewhat rare. I do not find much mention of it in stores. Most of the items revolve around Bubbles or the combined image of all three. The three of them are looking angry and staring at the observer as if telling him to mind his or her own business. Wear it on the beach when you do not want to be disturbed. Another great place to wear them is during volleyball matches on the beach side.
The words written on the top are in red which is somewhat provocative in my view. But it gives a good variety to your collection. Most tank tops of the boys are in light or deep heather shades, which is a standard color for this style. You can always opt for something different. No need to follow the herd.