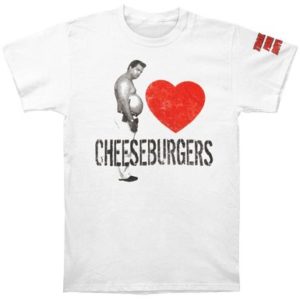 Randy's love for cheeseburgers is a well-known fact. If you are in a comical frame of mind, let the shirt take over the mood. Let me explain the print to you in detail.
Randy is looking puzzled towards a deep red heart symbol. And you probably know the reason behind the puzzled look. Yes, he is missing those damn good cheeseburgers! Hence, a big bold Cheeseburger caption on the lower side explains it all. The left arm of the half t-shirt carries the symbol Trailer Park Boys in deep red. So you can rest assured that your fan spirit will find proper appreciation.
The base background is off white which is much better compared to the dazzling white counterparts. Personally, I would go more for the grey ones but it depends on individual preferences.
If you are searching for a design in light shade, this one provides a good variety. Don't know whether you can wear them in formal places. The open pot belly of Randy might turn out to be a deterrent for many people. Leave out the risk if you are unsure about the kind of publicity. But, if you are on a weekend trip and want to feel the freshness of a great licensed shirt, this is a good choice.