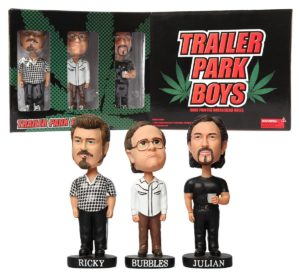 I was checking the emails and found this surprise mail from Amazon about new trailer park boys bobblehead dolls. Looks like not many are there in stock but for now, they are available. It is a perfect showcase item for the house. Looks like my dad can have that as a Father's day gift! The three guys looking lovely together.
You can read the reviews about customers who have already bought the dolls and find out whether they fit in with your requirements.
I find the words "Officially Licensed" on the product page in Amazon. It adds so much weight to the product. If you happen to meet the trailer park guys, it is a great idea to hand them the bobbleheads in person. I would love to gift Bubbles, my comic hero.
So, if you have already bought a fair number of t-shirts and card games, the new arrivals offer a different perspective to the TPB show. I guess, the thing is going to remain available for the entire year because of the surging demand. And yes, we are coming closer to the end of the year sales. I am expecting new merchandise in the trailer park series this year.