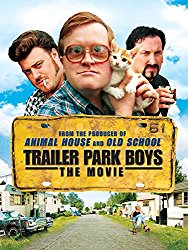 I guess more sequels will be made in the coming years but right now there are a total of 3 movies in this iconic series.
Trailer Park Boys: The Movie, came in the year 2006. It was the first movie in the series and was largely inspired from the television episodes. The main characters are Ricky Julian and bubbles who create a grand master plan which is nothing but one big crime that will allow them to lead a peaceful life of retirement.
The second movie in this series is called Countdown to Liquor Day. It was released in the year 2009. The film got mixed reviews. Some people appreciated it for the crude humor but some failed to digest the content. The film revolves around the life of the three boys as they make an attempt to come back to the criminal ways of life after being released from the prison.
The third and final movie Don't Legalize It was released in the year 2014. In the third part the three boys again try to attempt some quick returning crimes but are followed by the supervisor Jim Lahey. In the final ending part of this movie Ricky goes to the parliament in order to prevent the legalization of marijuana.