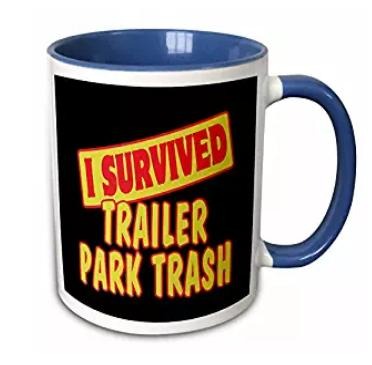 Have you survived the trailer park trash? This 15oz ceramic mug will surely remind you of that! It is a beautiful piece of gift for the TPB fans. There is a lot of classy style to it that reverberates from the surface. Beginning your day with the Sunnyvale coffee style is going to lift up the spirits for sure.
Some high points of the mug:
No lead in the material
Wash with hand to preserve the image
Safe to use in microwave
Both sides have the image
Size -15 oz – White ceramic
Finish style – High glossy
Notice the style of the print " I Survived Trailer Park Trash". A very bold and striking finish to let the observer know what you are thinking. This is something with a lot of firepower. Keep it on the office table and the boss would think twice before criticizing you! Wish that would happen frequently !
I guess one would not be enough. Most guys in my circle would love to have it on their morning desk. Wondering if a pack of 6 is available. Anyway I'll check that out. Till then keep the spirit running high.