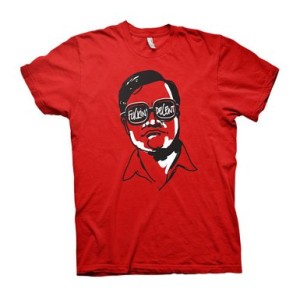 Don't go by the name, the shirt presents Bubbles in great light. In fact, if you want to thrust the image of Bubbles on to someone and prove your point, this t-shirt would work well. The decent red shirt was among the first designs to come in the market and still continues to reign the market. You will be surprised at the demand that still exists for this very print. Some classic prints never go out of fashion and this is definitely one of them.
There is nothing overly artistic about this red shirt. However, the black out line of Bubbles rather stares at you with conviction. It is this conviction that people go after and search for again and again. The same can be said about the Bubbles and Kitties t-shirt.
Some people argue that it might be decent enough to wear it everywhere. Well, America is changing my friend and you can no longer apply the same conservative principles. Of course,  you don't wear for a press conference! ( Bubbles might do that as well) That is common sense. I mean, I do not see a huge list of places where you feel awkward enough to avoid wearing this one.