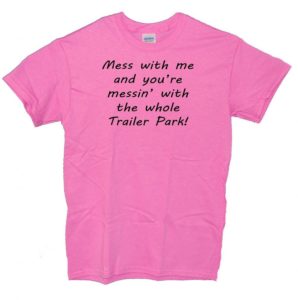 Threatening with the pink shade! You would associate pink with a soothing shade. I mean, the usual emotions have nothing to do with a warning sign. This is exactly why this shirt presents a unique combination; "mess with me and you mess with the whole trailer park". This is an adorable quote from the TPB series and many find instant connectivity with this line. Whether you are a Ricky fan or someone who loves Bubbles, this quote brings out a huge range of emotions.
The t-shirt has been designed using direct digital to garment printing. It is a made in USA item made from preshrunk cotton.
Apparels like these are great for starting new conversations. You can  easily make new friends with the quotes casting an extra bit of attention. Most importantly, you declare well in advance about the internal attitude. As they say, "birds of the same feather flock together!'. Sooner or later you will find other passionate TPB fans for sure!