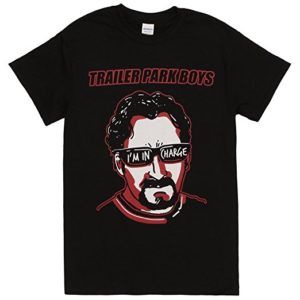 Sometimes you need to let Julian come to the forefront. He is the hidden gem in the series. I accept that there are more 'Rickyism' enthusiasts out there, what Julian contributes to this team cannot be ignored. The Julian in charge shirt reflects what I am saying right now.
It is an officially licensed merchandise. The product page provides a good description. You can have a look.
The words "I am in charge" are printed on the sunglasses. The dark background gives a good view of  the central print. In case you are looking to control a situation without saying a word, this shirt might help you out. I plan to use in some of the classes that cross limits of boredom. Not many such classes but a few in my course.
The one good thing about this clothing series is their affordable nature. Most of the stunning tees are in $20 to $30 range. You do not get a big dent in the pocket. A small saving period can get you a good collection. It has been the case for me over the years. And not having a girlfriend sometimes helps!!